The Speedotrack72V 30Ah portable battery pack is a compact, safe and economical lithium-ion battery pack. This standalone battery pack was designed for electric scooters, with high-power NMC lithium-ion cells. No additional equipment is needed for the safe operation of this battery pack. In extreme operating conditions, the integrated BMS disconnects the battery from the system. This ensures safe operation and protects the battery pack against short circuits, over-charge, over discharge, over current, over temperature and under temperature events.

The integrated BMS passively balances the charge between all cells in the battery pack. Energy is discharged from the cells with the highest charge in the pack, which maximizes the runtime of the battery pack and extends its life. This lithium-ion battery pack is maintenance free, and has a longer run time with a shorter recovery time than equivalent lead acid battery packs. It weighs 70% less and takes up 60% less space than equivalent lead acid battery packs, providing increased range and product compatibility.

Features of Li-ion Battery
The Speedotrack 72V 30Ah portable battery Designed to the highest automotive standards with Integration of autonomous BMS ensures 24/7 Battery performance and safety. It provides protection against Short circuit, Cell Over Voltage, Cell Under Voltage, Charge Over Current, discharge over current, over and under temperature.
The Speedotrack 72V 30Ah portable battery provides High-power 3C NMC lithium-ion cells with 25mOhm IR. it comes with 60 A (Max @ STC) Continuous discharge current with 40 A (Max @ STC) Continuous charge current. it comes with  Extremely low power dissipation (Shelf-life of more than 5 years) and upto 85 mA passive cell balancing.
The Speedotrack 72V 30Ah portable battery Perfect alternative to Lead Acid Batteries. it comes with Standard 3 - Pin I/P & Anderson plug power O/P. life of battery is 3 to 5 years and comes with 3 years limited warranty. it has Short/Fast Charging times. it is Portable and lightweight, less than 20 kg (20lb). it comes with IP54 watertight enclosure and Compatible with regenerative braking systems.
The following block diagram shows the internal pack components and their configuration. This diagram is for informational purposes only and does not reflect the physical placement of components. For details on our BMS operating parameters, see the BMS data sheet available on our website.
Speedotrack Li-ion Battery operation

Mode of Operation
The Speedotrack72V 30Ah portable battery pack has two modes of operation: Active mode and Low power mode. In active mode all BMS monitoring operates normally. Active mode is entered automatically when battery use is detected. Low power mode maintains all battery and safety protections, but with a reduced measurement frequency. 

Discharging
The Speedotrack72V 30Ah portable battery pack can provide up to 40 A of Continuous Current though the Battery Management System (BMS). Speedotrack Battery Management System is rated for 60A (Max) Continuous Output so that battery can be used up to where more than 40 A output required.
Charging
The Speedotrack 72V 30Ah portable battery pack should only be charged with approved chargers. Charging with a 5 A charger will result in a slightly longer battery lifetime, but our battery is compatible with up to 15 A charging for convenience. The battery pack is compatible with charging from regenerative braking technology.

Passive Cell Balancing
The integrated BMS provides passive balancing of up to 85 mA. Cell balancing is achieved by discharging energy from the highest charged cells, resulting in increased pack lifetime with a higher capacity and longer runtime than unbalanced battery packs.
Primary Fault Protection
The integrated BMS monitors the battery to ensure safe operation. It is connected in series to the negative line of the battery. it provides protection against Cell Under-Voltage and Over-Voltage,  Low and High Temperature, Short circuit etc. The cell thresholds are configured according to the lithium-ion cell.
Secondary Fault Protection
The Speedotrack 72V 30Ah portable battery provide solid fault protection. The integrated Battery Management System (BMS) will permanently disconnect the battery pack from the system if the primary protection system is compromised, ensuring battery pack safety.
The Speedotrack 72V 30Ah portable battery pack is typically used in Electric Scooters, Backup Power Systems and other portable power applications. The following is an example of a Speedotrack 72V 30Ah portable battery pack used in a 72 V electric scooter with a charger.
Pricing Lithium-Phosphate Battery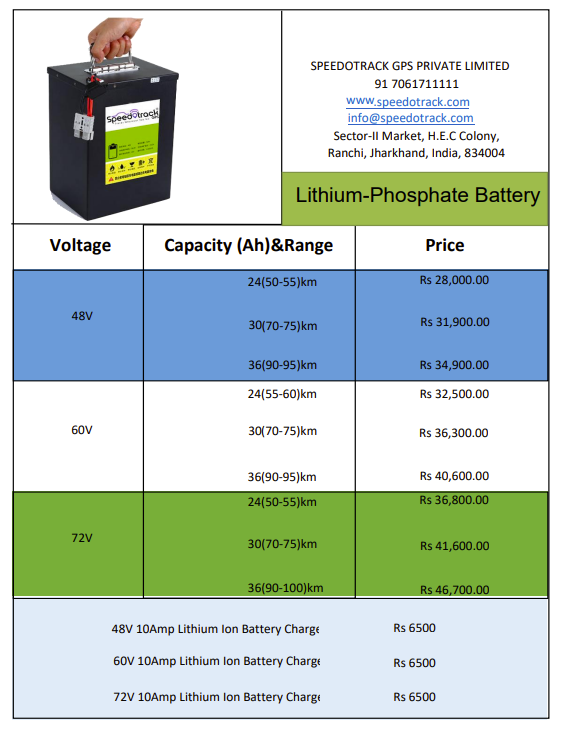 CONTACT US
Don't Hesitate to Contact us for any
Information.
Call us for immidiate support to this number